Most Popular Features
SCHEDULE MANAGEMENT & TASK MANAGEMENT
A vital aspect of the successful completion of a project is schedule management. KMDProjects provides in its project setup, scheduling functions allowing you to streamline your schedules, set stages, milestones, and reminders. Focused views, Gantt charts, and time tracking enable project managers to keep their projects on schedule and evaluate their workflow to optimize productivity.
Focused Views for All Users
KMDProjects provides each user with a focused view of the project schedule based on their role. A focused view puts the spotlight on parts of the project relevant to each employee regardless of their role in the project.
Project Contributors
People involved in the hands-on aspects of a project are shown important information on their assigned tasks' deadlines and critical dates. Built-in reminders and checklists allow contributors to maximize productivity and allow them to understand the requirements of their tasks. Contributors are able to communicate their task status through the communication features of our software.
Project Managers
Our simple controls allow project managers to have a bird's eye view over core aspects of their projects through standard calendars and Gantt charts. Project schedules are intuitively organized and allow assigned team members and project information to be updated automatically.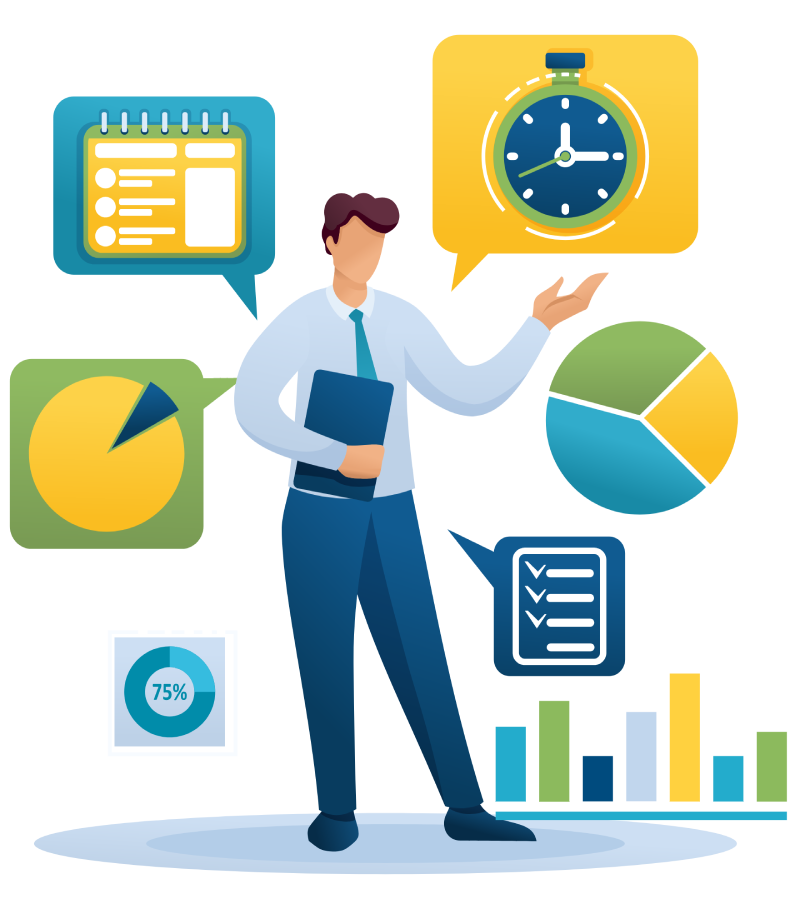 Our scheduling software allows for setting up a framework for each project populated with various stages and milestone goals that you can set. Automated reminders and checklists will reduce your workload while helping your team remain on task and accountable.
KMDProjects uses a simple, intuitive timesheet that provides weekly access to progress notes, hours spent, and hours remaining for a project. Timesheets can be automatically populated with all active projects, or specific ones can be added or removed with just a few clicks.

Senior Management & Executives
Our software is fully customizable to the requirements of your company, allowing for custom project stages. For more detailed views, managers can view the project through our Gantt chart to view and set up dependencies between tasks and show each project's critical path. Through a few mouse clicks, custom reports can be created showing project trends such as any causes of delays across the portfolio of projects.
These described categories are deliberately broad. Our software can be customized to your team's hierarchy, giving each user a custom focused view based on their role. Each company will have different needs and KMDProjects can be customized to meet any global enterprise requirements.
Find out how KMDProjects can help you!